Plans Assessment
All projects from minor domestic work to commercial developments have a formal assessment undertaken by our professional surveyors.  Assessments consist of vetting the proposed drawings against all 14 parts of the Regulations, including Part A – Structure, Part B – Fire Safety, Part L – Conservation of Fuel & Power or Part M – Access.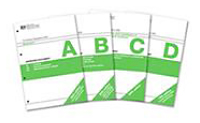 Our assessment will include comments and/or observations from this vetting process within a building control report format, so they can be incorporated into the project to indicate compliance of the respective Regulation. Therefore, classed as a "Conditional Approval."
If required, we can offer a "Full Approval" in the form of a Plans Certificate. This is a two-stage process where we would first prepare an initial report so that plans can be revised to confirm compliance of the respective Regulations. These detailed plans will then be re-assessed and if satisfactory a plans certificate will be issued.
Due to the long lead time in preparing plans certificates, they are mostly suited for larger/complex developments.
We request all reports are acknowledged with any required amendments confirmed and that they have been included into the proposed plans before that part of the work has commenced. This will prevent any possible delays on site due to non-compliant issues not being resolved during the assessment process.
Consultation Process
During our assessment process there are legal requirements we must carry out, these consist of:
Consulting the Water Authority for extensions or new builds that are within 3.0m from any public sewer;
Consulting the Fire Authority for projects that apply to the Regulatory Reform (Fire Safety) Order 2005, these include: residential flats with common areas and all commercial projects.
Water Authority
We will provide the relevant authority a site plan that details the proposed work for their consideration and if the applicant will require their approval, this is a "build over agreement". If required, the water authority will contact the applicant so the necessary application can be made with the respective Water Authority. If no build over agreement is required, the council will inform us in which we will advise you accordingly.
Please refer to this link for further information: Thames Water
Fire Authority
Once we have received plans that provide the necessary fire safety information, we will commence the consultation process with the relevant Fire Authority. This process involves our report/fire safety schedule, which details any amendments necessary to meet the requirements of Part B of the Regulations. The consultation with the fire brigade will usually take up to 10 working days to receive their satisfactory response and approval or possibly, they may make additional comments relating to the proposal. Please note: we cannot issue our Final Certificate until this consultation process has been undertaken and we have received their response. Please refer to this link for further information: Regulatory Reform (Fire Safety) Order 2005
Site Inspections
Your contractor should be provided with our contact details prior to commencement so that they can contact us to arrange the required site inspections at least 24 hours in advance. When booking inspections, we request access be available for our surveyors to undertake their inspection safely and therefore, able to view all areas that are required for the type of inspection being undertaken.
Site inspections are project type specific; usually the first inspection will be for excavations of foundations for extensions and new builds, or elements of floor structure for a typical loft conversion project.
During our inspection we will comment on any issue that may arise which do not reflect the proposed plans or minimum standards of the Regulations. We cannot advise or provide your contractor any instruction to rectify the issue but will recommend they refer back to the design team to maintain our impartiality as this forms an integral part of the building control process. All issues or contraventions will be recorded onto our auditing system and we will notify the responsible person of any contravention within 24 hours so they can rectify them. Once amended, we request confirmation be provided and if necessary, we may be required to re-visit site.